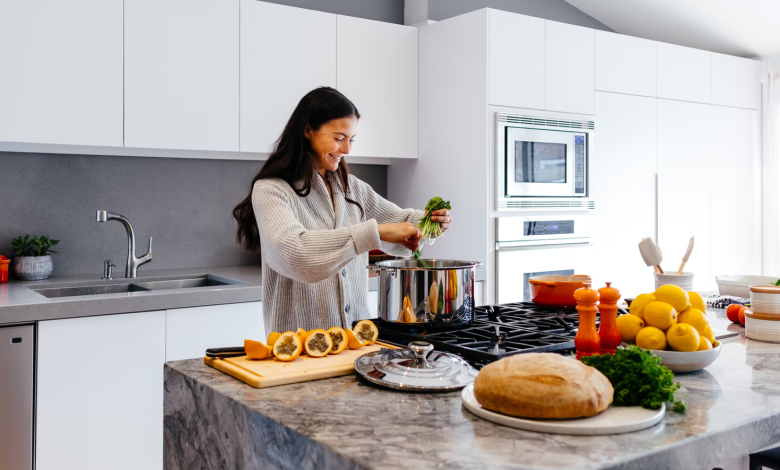 The keys to good health and wellness include healthy eating and exercising. If you can balance what you consume and drink, you'll be able to have lots of energy and then better care for your newborn baby. In addition, adopting a healthy lifestyle as a new parent makes you physically and mentally fit for confronting all first-time parenting chores.
The International Nanny Agency can prove to be helpful for you if you are a first-time parent and are finding difficulties in better taking care of your newborn. You can hire an experienced and nearby nanny to care for your baby. Nanny is an experienced and intelligent person who can assist or help you care for your baby. 
Good health and well-being mean you'll give your kids the things they require to develop and grow. Additionally, the food you consume, how much exercise you do, and how you take care of yourself affect your child's perception of health, fitness, and well-being today and in the near future.
Check out below some healthy lifestyle tips for parents. 
Healthy Food For Parents
A healthy lifestyle starts with a healthy diet that gives you the energy you require during the day. It also keeps your body healthy so that it can function at its best.
Making balanced meals may seem like a daunting task as a busy parent. However, once you've identified which foods supply the nutrients you require, it will be much simpler to select healthy foods and eat well.
To get the ideal mix of protein, carbohydrates, healthy fats, minerals, and vitamins, your body requires a broad range of food items including vegetables, milk, dry fruits, fruits, etc. 
Exercising Is The Part Of Adopting A Healthy Lifestyle
If you're a parent with a lot on your plate, it can be challenging to incorporate fitness into your schedule. But did you know that exercising will boost your energy levels and make you feel more relaxed?
If you're running out of time, it's best to incorporate physical activity into your daily routine. This could mean taking an outing with the kids, playing around in the local stream or playing a game at the playground, or even walking to the store for some things rather than driving.
The most important thing is movement. At least 30 minutes every day is enough to emphasize a healthy lifestyle. Even small amounts of physical activity of 30 minutes will increase your energy. In addition, incorporating regularly vigorous exercise will increase your overall health.
Stop Smoking For Yourself And Your Child
The most beneficial thing you can do to protect your baby's health is stop smoking. Parents who smoke affect the health of kids negatively three times more than their own. 
Smoking passively is particularly harmful to infants because their lungs, airways, and immune systems are not so well developed. The risk of sudden infant death syndrome is also increased when they smoke passively.
Set The Example For Others To Follow
You influence children's physical activities as a parent. It is not necessary to become an expert in any sport to adopt a healthy lifestyle. Simply get up, move and show kids how enjoyable being active can be. 
They might eventually get used to it, too. It is possible to set an example for them by taking walks or cycling instead of watching television, playing video games, or surfing the web. Find a sport that you like and take part in it together.
Be Grateful For All The Help You Get As A New Parent
In history, never before has a father or mother been required to take care of their newborns all by themselves. There were always aunts, mothers, and older sisters around us to assist when both parents are working and are stressed. 
Do not be afraid to ask for or pay for assistance. Rely on your family and friends. You'll sleep better and be able to enjoy your expanding family more. Your relatives and trusted people near you can help you better take care of your kids while you emphasize adopting a healthy lifestyle. 
Keep Fun Alive In Your Life
Remember, perfection is just in the word dictionary. Therefore, forget the importance of dignity, forget organization, be kind to yourself and have fun. Laughter boosts your mood and eases stress. It is precisely what the doctor recommends. Life is about having fun. Having fun keeps you healthy and mentally prepared to deal with any situation that comes your way. 
You Can Sleep Whenever You Want
Sleep might appear to be a distant dream when you have a child. However, a lack of sleep can have an adverse effect on your physical as well as mental health.
Cleaning the house or doing laundry can seem to be of prime importance when your baby is finally asleep. However, relaxing your eyes should be your first priority.
Rely On Your Instincts
It's tempting to follow all the advice of relatives or friends who have been through the process of having children. However, trusting your instincts can be a great way to boost confidence and adopt a healthy lifestyle and reduce stress levels. 
International Nanny Jobs include caring for your baby while you are not available at home. If you are a working parent, then a nanny is the perfect person to rely on for better care of your baby. However, if you have an instinct for finding a nanny, don't wait. 
Expensive Doesn't Always Mean Better
In the case of baby products, we recommend following the "less is more" method. With so many brands claiming to have products that can change your life, it can be challenging to decide what you want and, more importantly, what you do not want.
There aren't any strict and precise guidelines for selecting the best products; however, second, third, or even the fourth time parents recommend looking around for items that will fit your child as well as your financial budget. This could mean settling for products that are brand new or used occasionally.
Last Words Of Advice For New Parents
These are the most effective tips for new parents for adopting a healthy lifestyle. Remember that when you're doing your best for the first time as a parent, you're doing an excellent job. If you're having a hard time and need help, don't hesitate to seek assistance. 
Read Also: Wisdom Tooth Extraction Aftercare – What To Expect.