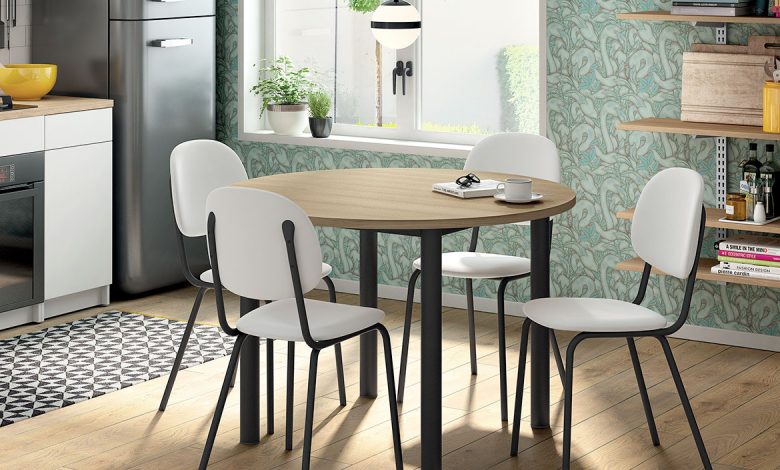 Have a small space? No question of sacrificing the dining area! When you have a mini home, you often tend to think that the choice of furniture is limited. But it is nothing! Who says small space says adapted furniture, and you will see that the choice is not lacking. To create a space-saving dining area, you must first define your needs and select a table that corresponds to the available space. So what size, shape or type of table to choose? Take a seat and discover all the possibilities available to you!
SMALL SPACE: WHICH TABLE SHAPE TO CHOOSE?
Want to invest in a new table perfectly suited to your small home? Before embarking on the purchase of your future piece of furniture, you must take into account the specificities of your space. Generally, square or rectangular shaped tables are the most common and practical for small spaces, but the round table has its strengths too. Overview of the possible shapes for your small home!
THE SQUARE TABLE, THE ESSENTIAL FOR MINI SPACES!
XXS spaces love it. Ultra practical, the square table is a must have for small areas. The square models adapt to all layouts and particularly appeal to owners of studios and small apartments. The reason for this? Their compact top allows them to be placed in an angle and thus free up space in your living room. Some very light models, because they are made of plastic or aluminum, are also easily transportable. Indeed, you can move them alone by holding them by the two edges of the board. Therefore, they can be moved to a corner when you no longer need them.
THE RECTANGULAR TABLE, A FAITHFUL ALLY FOR SMALL SURFACES
It is also an essential model for small spaces. The rectangular table is the most used shape and is generally suitable for all room configurations. However, it is particularly well suited to narrow and cramped spaces that require long furniture that can be positioned against a wall. Rectangular tables are a safe bet for all types of space, provided you choose a small format that is not too wide! We ideally recommend widths equal to or less than 80 cm. The most important thing is that you can move freely around it!
FURNISH A SMALL ROOM WITH A ROUND TABLE
The round table is a little more imposing and cumbersome, but it can also be a good alternative in certain respects. Above all, we love its soft modern look and its ability to make a space much more convivial and warm. Chosen in a small format, it can easily furnish a small living room or a kitchen. It will also be ideal in a square dining room, since its round shape allows you to structure the space all around and make it the central piece of furniture in your room. Similarly, the round table sometimes has a central base, which visually clutters your room less than a model with four legs. Finally last advantage, in small spaces, you can quickly feel cramped and bump! The round table reduces the risk of sores since its top has no corners!
WHAT SIZE TABLE TO CHOOSE FOR A SMALL SPACE? 
After the shape, which table dimensions should be preferred? The mistake to avoid is forgetting to calculate the available space. It is indeed necessary to take into account the spacing and the movement of the chairs to guarantee circulation and optimal fluidity in your living room. It is therefore preferable to opt for small models or even to choose extendable furniture according to your needs.
A TABLE FOR 2 OR 4 PEOPLE, THE IDEAL TOP SIZE FOR A SMALL SPACE
If you don't use your table a lot, why bother with an oversized model that will encroach on your precious square meters? It is better to opt for a safe bet and settle for the minimum size that will be suitable for daily use. The table for 2 or 4 people is ideal when you want to furnish a small accommodation. It allows you to optimize your available space as well as possible while offering you a real dining area. Here are the recommended dimensions for each tray shape:
| | | |
| --- | --- | --- |
| Tray shape | Number of persons | Dimensions |
| Rectangular table | 2 | 100 x 60 cm to 109 x 70 cm |
| Rectangular table | 4 | 110 x 70 cm to 149 x 90 cm |
| Square table | 2 | 60 x 60 cm to 99 x 99 cm |
| Square table | 4 | 100 x 100 cm to 119 x 119 cm |
| Round table | 2 | Ø 60 cm to Ø 89 cm |
| Round table | 4 | Ø 90 cm to Ø 124 cm |
Our little advice: if you are unsure about the size of the tray, place a sheet on the floor of the same size as the tray. You will thus be able to better perceive the space that the table would occupy within your room. Also remember to leave at least 60 cm around your table so that you can move your chair more easily when you are seated.
THE EXTENDABLE TABLE TO SEE THINGS BIG!
Even if you opt for a small format table, that does not mean that you will not be able to invite your loved ones for convivial meals. There are, in fact, many models of extendable 2 or 4-person tables that allow you to occasionally receive your loved ones. The advantage of extensions is that they adapt your table to your needs. So when you're entertaining at home, you can expand the table in no time. The rest of the time, once the extensions are stored, the space will be minimal!
SNACK OR BAR HEIGHT, WE LOVE THE HIGH TABLE
The classic height of a dining table is around 75 cm. But there are also snack or bar height tables, 90 cm and 110 cm, which can be perfectly suited to small spaces. Our advice is to opt for a high table with stools that can easily slide under it to optimize your room. The ideal is to choose shallow and narrow tables that will be placed behind a sofa and exploit the nooks and crannies of your home that have hitherto been untapped. In addition to being very practical, high tables also add a certain style to a living room or kitchen. In particular, they make it possible to structure the space by delimiting it.
WHICH TABLE TO CHOOSE FOR A SHORT STAY?
THE RETRACTABLE TABLE, A CONSIDERABLE SPACE SAVER
The retractable table is a model that we love for tight spaces. This type of table folds and unfolds easily and can turn into a completely new piece of furniture. We particularly like the console which turns into a large dining table. This table is perfect for small homes that need a table that adapts to occasional needs.
THE LIFTING TABLE FOR A FUNCTIONAL LIVING ROOM
Other alternative, the lifting table! We are a fan of modular models that adapt completely to our desires. Designed especially for mini spaces, these tables have an adjustable height that allows you to transform your living room into a dining room, and vice versa! Some of them can even be stored under a sofa when you no longer need them.
THE CONVERTIBLE TABLE FOR DUAL USE
The small space table competes in originality to optimize your living room. This is particularly the case for certain models that can be transformed into a bed or a shelf. This dual use allows you to free up space in your interior by buying a single piece of furniture instead of two.
WHICH TABLE TO CHOOSE FOR A SMALL KITCHEN?
THE SLIDING TABLE THAT HAS EVERYTHING OF A BIG ONE!
The kitchen is often a cluttered and restricted space where every square inch counts. To best optimize this central piece and avoid no longer being able to move around with an embarrassing table, we recommend the sliding table! We totally validate this type of table, which is as practical as it is aesthetic. This sliding system, even sometimes pivoting, allows you to benefit from a real dining table that takes up no space once stored!
SMALL KITCHEN: THE CHOICE OF THE FOLDING FOLDING TABLE
Second favorite for the kitchen area, the folding table. Perfect for kitchens that can't afford a pedestal dining table, the wall-mounted table that folds and unfolds is a clever choice that will allow you to take full advantage of your space, no matter how small. Ideal for breakfasts alone or for two as well as for meals on the go!
SMALL ACCOMMODATION TIP: THE TRANSPARENT TABLE!
The table is generally the flagship piece of furniture in the house. We want it practical, but no less stylish! If you want to combine both space optimization and trendy furniture, here is the transparent table for you! In glass or polycarbonate, the translucent table is the smart piece of furniture to absolutely adopt for anyone looking to declutter the space. Both stylish and clever, it avoids visually weighing down your room.
SMALL SPACE, MAXIMUM LIGHT WITH THE GLASS TABLE!
Choosing a glass table has many advantages if you have a small home. If we love the elegant style of glass, this material above all allows it to reflect light and thus brighten up a room in an instant. A translucent piece of furniture is therefore the solution to let as much light as possible into your home. It gives a feeling of space and clarity in rooms that tend to be dark and cramped. What we like about glass is that it can be combined with other materials, such as wood, stone or even metal, and can therefore suit all decorative styles.
GLASS OR POLYCARBONATE TABLE: THE LIGHT DECORATIVE CARD
Transparent tables embody sobriety and minimalism. Integrating them into your living rooms is a way to lighten the space and free up the volumes. Whether you opt for a glass, plexiglass or polycarbonate table, you will have an illusion of grandeur that will make your decoration airy. Unlike glass, polycarbonate and plexi are extremely light materials, which allows you to move your furniture more easily.
From the modular table to the small format one, passing by the extendable table, there are different models all suitable for furnishing small spaces. It's up to you to make your choice according to your desires and your needs. And you, which tables for small spaces do you prefer?