Janitorial service, home repairs, and maintenance affect all users of a property: homeowners, landlords, tenants but also traders.
Especially in today's stressful time, work, family and the caretaker tasks can rarely be reconciled.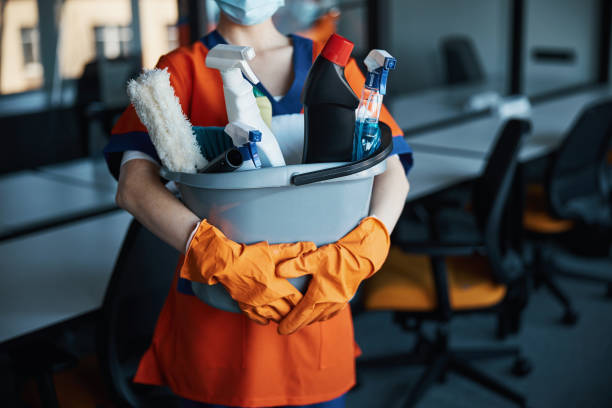 Discussions quickly flare up here about who handles special small repairs or cleaning the apartment.
If an external craftworker is then also required for repair work, it often takes weeks before you can even get an appointment.
But what is the best way to solve this problem to everyone's satisfaction?
In today's blog post, we give you ten good reasons ‌you should hire a professional cleaning company to look after your property.
Reason 1: There is no time!
Are you an owner, landlord or tenant and work 40 hours a week? Do you have a family and children?
Then you will hardly find the ‌time to do all the ‌repairs and the regular house cleaning and garden maintenance yourself. A first good reason ‌you should commission a caretaker service with all the ‌tasks that arise on your property.
Reason 2: You benefit from the know-how of the contractor!
An experienced caretaker knows exactly what is important. Unlike most residents of a house, a caretaker has many years of knowledge about the care of buildings. In addition, the cleaning staff, for example, is regularly brought up to date with the latest developments in training courses. In this way, repair and cleaning services can be carried out professionally and promptly.
Reason 3: The regular implementation of all measures is guaranteed!
Especially in a household, discussions quickly arise about whose turn it is to clean the hallway, for example.
There are roommates who take the cleaning work particularly seriously and others who prefer to avoid work. Even a sophisticated cleaning plan rarely achieves the desired result.
With the support of a professional cleaning company, all activities are recorded in a cleaning plan and completed at specified times. Landlords and tenants alike can look forward to a clean house and free time.
Even repairs and maintenance that occur at home can easily be handed over to the responsible caretaker.
Reason 4: The responsibilities are clearly defined!
The caretaker service provides responsible personnel for each property, who are instructed in the activities in advance and after the start phase know exactly what is important in the work.
The commissioned service provider also ensures that they regularly checked the proper implementation of all measures via the company's own quality management system.
Reason 5: A personal contact for everything to do with building management!
Especially in households, it is not uncommon for tenants not to know who to turn to when problems arise.
An experienced caretaker service not only offers competent staff to take over small repairs and cleaning tasks but also provides you with a specific contact person.
This is often available around the clock, 24 hours a day, seven days a week, even in the event of acute problems, such as a burst water pipe. The service provider often provides a service hotline, which can be used to quickly and easily request help in an emergency.
Reason 6: You don't need your own devices!
A service provider has modern and versatile equipment in order to ‌carry out all caretaker tasks, such as housecleaning, quickly and professionally.
The caretaker service always monitors the costs, which play an important role for both landlords and tenants.
Reason 7: Good value for money!
Homeowners in particular often shy away from hiring a service provider. If you ask them why they often give nuclear caretaker service prices. It is very easy to keep an overview of the costs incurred.
The easiest way to do this is to have a non-binding and free offer made for you. Simply ask your desired service provider for a cost estimate that breaks down all services including prices at a glance.
Reason 8: we can pass The caretaker costs on to the tenant!
The costs for a caretaker service are part of the operating costs that the tenant has to bear as part of the operating cost statement. Typical tasks for checking, securing, maintaining, and cleaning the building can be allocated in terms of costs.
An important tip for homeowners: Make absolutely sure that certain activities are not billed twice, such as garden maintenance by the caretaker and a monthly wage for a commissioned gardener. Because we do not permit this type of double burden for the utility bill and the apportionment to the tenant!
Reason 9: Individual alignment to the respective customer needs!
A professional caretaker service always tailors its range of services to customer needs.
Here you not only ‌discuss all tasks and their execution but of course, also make suggestions and criticism. A competent caretaker service will take all the information and implement it as soon as possible.
It is ideal to use a checklist in which you record all the desired tasks for the caretaker.
Are you unsure which fields of activity he can take on at all? In our blog post Duties of a caretaker: What are his duties? Here is all the information you need.
Reason 10: Sustainability and environmental protection are guaranteed!
A professional cleaning company will help you increase the value of your property over the long term. It is not only important to implement all tasks professionally in terms of cleanliness but also to carry out repair and maintenance measures with a view to the future.
A trustworthy caretaker maintains control here and only recommends certain expenditures if they ‌maintain the value of the building. The focus is always on the individual requirements of the client.
An external service provider knows exactly what needs to be considered with building cleaning and grounds maintenance, naturally also regarding the environment.
This includes, for example, that only environmentally friendly cleaning agents are used or, example, that green waste is disposed of professionally and in an environmentally friendly manner.
Homeowners benefit from a reliable janitorial service for many reasons! We have summarized the 10 most important arguments for you in an overview. It's best to try it out for yourself, you won't want to be without your caretaker any longer.