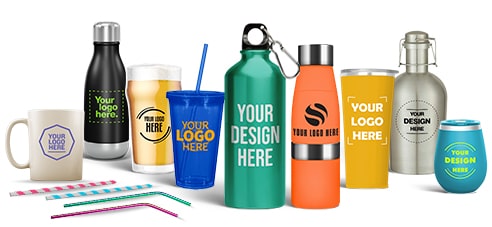 Offering custom-branded merchandise to customers can help your business. When we walk into a retail store, we frequently see posters or signage directing us to a sales offer or a display stand promoting the latest range. We wouldn't know where to look for what we needed or how much to spend if we didn't have these printed prompts.
Most people enjoy a little retail therapy, whether it's a day spent strolling down the high street or a good browse online. The distinction between these two buying experiences is significant. Online retailers frequently concentrate on the post-purchase print journey. In-store retailers, on the other hand, use print to entice customers into their stores. They persuade them to browse for longer periods of time and, as a result, make more purchases.
5 best sites for merchandising custom print products
There is no such thing as the "most profitable" print-on-demand product. Many factors will influence your company's profitability. It could include things like how good your designs are, how well you market your products, where you sell them, and so on.
In fact, global e-commerce sales have increased rapidly in recent years as a result of digitization and changing consumer habits. Last year, they were estimated to total $4.90 billion. More people are shopping online than ever before, which means more people could buy your print-on-demand products. In 2022, people are moving to online shopping, so this business is growing day by day. Some of the important websites for custom branded merchandise are;
Printify has a simpler system, but it's cost-effective, user-friendly, and allows you to set up print-on-demand stores. You can get anything from stickers to pet accessories in a matter of minutes. Their base prices are comparable to those of other merch stores. Simply add your margin to the base price of the product. This means you keep complete control over your earnings.
Printify is a print-on-demand fulfillment company that offers product printing and shipping. It also includes a number of tools to assist you in the creation of designs. You decide where you want to sell your products and connect Printify to your preferred platform. It provides you with access to its extensive global network of printing partners.
Printify is able to offer better margins than the majority as a result of its low-cost shipping. With low base costs, you can profit more per sale while keeping your products affordable for your customers.
Sellfy is our top choice for the best print-on-demand website overall. It's a straightforward all-in-one e-commerce platform that supports print-on-demand products and comes with a free plan. Sellfy is one of our favorites because it gives you so much control.
Sellfy is unique. It's a full-fledged e-commerce platform in and of itself. So you can use it in less than 10 minutes to create your own online store that you control completely. You can make your designs, add your print-on-demand products to your Sellfy store, set prices, and start selling right away.
Sellfy will handle product delivery for you when a customer makes a purchase. They will print and ship your order before charging you for the base item cost, taxes, and shipping. You control the profit margins by setting the price of the product and pocketing the difference. Custom labels and embroidery, in addition to text and graphics, can be added to items of clothing.
It's an excellent option for anyone looking to sell print-on-demand products through their current site or store. If you only want to sell T-shirts, Printful is an excellent merch store. They are a company that fulfills print-on-demand orders.
Printful offers the same variety and quality at slightly higher prices. Additionally, your customization editor has a few more tools to offer. For the bottom layer, for example, you are allowed to use any of the custom logo merchandise or patterns that are available. Cover it with your company's logo and motto as well.
Printful provides white-label services, allowing you to personalize the inside labels and packaging of whatever you choose to sell. Overall, Printful is one of the best options if you want a user-friendly and dependable service to put your brand on popular products. You'll be able to keep current customers happy while also gaining new ones with its assistance.
Another well-known print-on-demand company is Zazzle. With more than 10 million monthly visitors, it has the second-largest audience of any POD marketplace (according to our best estimates). It reaches over 30 million shoppers worldwide.
Zazzle has been around for 15 years. During this time, they have established over 500 brand partnerships, including major names such as Getty Images and Disney. They have a large selection of designs as well as high-quality merchandise. 
You can earn money in two ways with Zazzle. Users can also use its online platform to sell your own products. You can also earn money by promoting any product on their website through an affiliate system. You don't have to worry about customer service or product fulfillment because Zazzle takes care of everything. 
Redbubble is another great print-on-demand site that allows artists and designers to sell their merch with little to no upfront time investment. Redbubble is a popular merch site because it allows you to control your profit margin completely. You can sell a wide variety of products (over 70 unique products) here, such as stickers and posters. T-shirts and phone cases are two of the most popular items.
It is, in fact, the most popular print on the market in terms of traffic. IT receives over 34 million monthly visitors (9.5 million of which come from organic traffic). They will essentially handle everything for you, including printing, money collection, and delivery. You only need to worry about uploading your designs and selecting your products.
Of course, Redbubble also handles fulfillment. Printing quality is usually good, but it is highly dependent on the third-party producer they are working with at the time. There is a base fee for all products, and then you can decide how much profit you want to make per product. However, keep in mind that whenever their website has a sale, all of their products must go on sale.
Conclusion
in conclusion, the main key point of this topic is to describe 5 dominant websites for reaching custom-print products for merchandising. A print-on-demand can assist you with all aspects of running a print-on-demand business. the way you give the products to customers is crucial to successful merchandise promotion. keep them in mind as you create your promotional artwork and select the best service to produce your custom-branded merchandise. you should make custom merchandise for business in order to increase their sales on your websites.