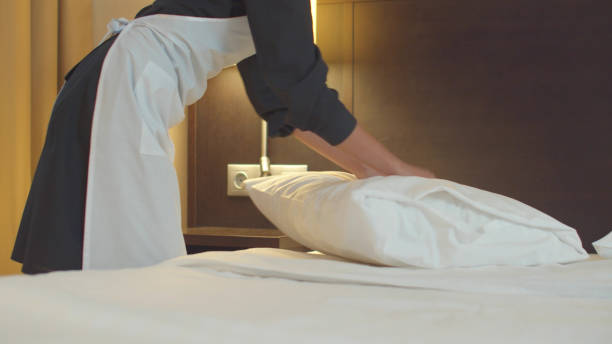 For hoteliers, the well-being and health of their guests and staff are of paramount importance. And cleanliness and good housekeeping have always been one of the first criteria for evaluating a hotel establishment for customers.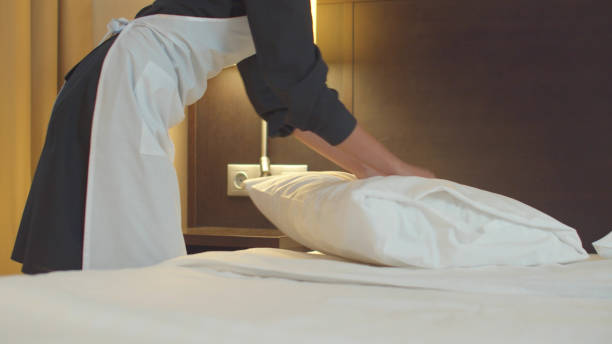 In hygiene concerns, it is therefore absolutely critical for hoteliers to ensure maximum cleanliness and at-par housekeeping in their establishment.
Let's go over some additional precautionary measures that hotels need to take into account in this new environment to emphasize impeccable cleanliness due to good housekeeping.
Step 1: Assess your current action plan
The importance of meticulous attention to detail has always been at the heart of the hospitality business. The current context obliges hoteliers all the more to ensure that all areas of their establishments are optimally sanitized in order to prevent any risk of contagion.
This involves demanding planning and execution in all areas of hospitality, including staff well-being and efficiency. Hotel managers should bring their teams together frequently, periodically take stock of their property, assess areas of concern, and establish an appropriate action and improvement plan.
Operational staff can also take advantage of periods of low occupancy to improve and modernize the maintenance of the establishment without affecting customers or implying delays or interruptions in service. Regarding priorities and staff working time, it is advisable to establish standard operating procedures (known as "SOPs") which establish strict security instructions to expect certain risks and reduce their effect.
These standard procedures will enable team members in all departments to:
Better cooperate with each other.

Report potential risks and hazards in establishments.

Diagnose and follow up on maintenance issues.

Use checklists during the inspection to ensure that nothing is overlooked (see below).
Your Ultimate Hotel cleanliness here is our Housekeeping Checklist 
Since unsanitary rooms and spaces are the most common sources of guest complaints on travel sites, the need for an effective cleaning process is an absolute must for any hotel.
A checklist or checklist is an excellent way to ensure that your establishment inspection is in order and working properly because it allows you to go through a successive series of actions to be carried out in order to ensure a result. Compliant in your establishment.
Step 2: Increase your cleaning efforts
In the face of the contagion fears that we are currently experiencing, hotels should have additional cleaning and disinfection protocols in the rooms and throughout the establishment, which aim to reduce as much as possible any type of risk related to hygiene and contagion.
With this in mind, it is important to consider the following steps:
Set an action plan for deep cleaning rooms, meeting spaces, restaurants, gyms, and other public areas.

Establish good hygiene protocols, such as providing hand sanitizer dispensers in public areas as well as restocking and refilling them.

Frequently clean and disinfect areas of continuous, frequent, and public touch points.

Regularly bring together your reception and housekeeping teams and your technical teams so that they actively take part in the development of an action plan, in order to coordinate cleaning interventions without disrupting the availability of rooms and halls.

Inform your teams of hygiene standards and operational procedures as well as best practices for each of their departments so that they are fully aware of what they must do and can react in advance.

Ensure that all team members are authorized to report all risks and concerns they encounter and that they have a common central log to record all new information.
This second step is a good opportunity to review your housekeeping checklist so you can identify and add any additional precautionary measures to put in place. Clearly document cleaning processes for different parts of the hotel. Clearly identify the surfaces and any critical areas to be cleaned, and specify the people responsible for each area as well as the specific products to be used for each. The products used must include instructions for use, application times to be respected, and ways to avoid cross-contamination ( cleaning and maintenance management magazine – English language).
Step 3: Consider pausing cleaning disabled programs
Whether by environmental initiative, loyalty action or simple savings, cleaning deactivation programs are increasingly popular in hotels. However, if you are readjusting your standard operating procedures ("SOPs") as well as your cleaning priorities. We strongly advised that you assess the health risks associated with maintaining these programs.
According to a Washington Post report, most times of deactivation programs, when these rooms were finally ready to be cleaned, they were actually much dirtier than if we had serviced them daily. In fact, the time and materials needed to clean these rooms had almost doubled. Faced with this doubt, we recommend you forego this deactivation program and maximize the efficiency of the working hours of the professional cleaning staff. Make sure we allocate your resources in the best possible way and that no unpleasant surprises arise.
Besides the cleanliness and housekeeping issues mentioned above, there can be other benefits to cleaning rooms daily. Indeed, maintaining an organized and regular team for the cleaning of the rooms also makes it possible to have better control over them, both in terms of their maintenance, the detection of anomalies, or even security.
Finally, since room cleanliness or housekeeping is the most common source of guest complaints on travel sites, you ensure we minimize the chances of negative reviews. And in this period of the health crisis, customers are even more demanding in terms of compliance with cleanliness and housekeeping standards.
Step 4: Keep lines of communication open
As with any good crisis plan, keeping staff informed and addressing their concerns can make all the difference in their work and motivation. And this has a positive impact on the overall hotel guest experience. Indeed, today's travelers are more and more demanding and always ask for more personalization and flexibility in the management and organization of their trips. For example, they are more and more accustomed to being informed about all aspects of their stay, even before their arrival. To do this, you will need to integrate your PMS into an automated communication system, so that you can provide information, for example, on the health situation in your locality or on your initiatives and actions to ensure the safety and cleanliness as part of the good housekeeping of your establishment.
From the moment a customer walks into your lobby, your staff's welcome will mark their first impression. A confident and pleasant welcome will immediately put the traveler at ease.
Then, the housekeeping service, with its detailed standard operating procedures, will provide guests with a feeling of comfort and well-being. Remember that your hotel serves as a "home away from home" for your guests, and maintaining a dedicated, transparent, and welcoming line of communication will make them feel connected and trusted.
As is often the case in difficult times, it is also important that the hotel management can react quickly in the event of a problem. Hotels operate in changing environments and during an emergency, their ability to react and communicate in a coordinated and rapid manner is crucial.
Step 5: Maximize your hotel technology
When hotels use manual processes in their communication, they expose themselves to errors or misunderstandings that can lead to delays or service failures. Adequate hotel technology can be decisive because it will allow you to better manage so-called "proactive" tasks such as coordinating reservations, distributing tasks and schedules, planning revenues, or even defining work priorities.
With SCS Group Cleaning Solution. You will also be able to keep your staff better informed of the needs and preferences of each customer.
Keep your housekeeping staff better informed of the needs and preferences of each particular customer.. 
By centralizing all their personal information, such as their historical stay data. Their travel details, or data on their behavior and expectations. You will anticipate certain aspects of their stay. Provide them with a more personalized and targeted service. Your staff can rearrange the priority of the rooms if necessary and carry out more thorough cleaning.
By planning and optimizing the efficiency of your operations using these tools. Your staff will also be able to react in a timely manner. Communicate quickly in the event of a problem. All of this will help you exceed your guests' expectations and surprise them positively.
In times of uncertainty. The need for hoteliers to establish effective processes and best practice guidelines is more imperative than ever. If your hotel experiences a slowdown in activity. Take advantage of this period to improve the operation of your establishment. Deepen the training and motivation of your staff, and optimize your cleaning services.
This will cause improving the "customer" experience. We will launch a word-of-mouth effect. Enhance your reputation and encourage your loyal customers to come back to you and recommend your establishment.
This ultimate hotel housekeeping checklist will help your hotel:
reduce the work of your customer service.

reduce negative reviews and therefore improve the image of your hotel.

improve the quality of the work of your room attendants.

increase customer loyalty and word of mouth.

improve communication between departments.