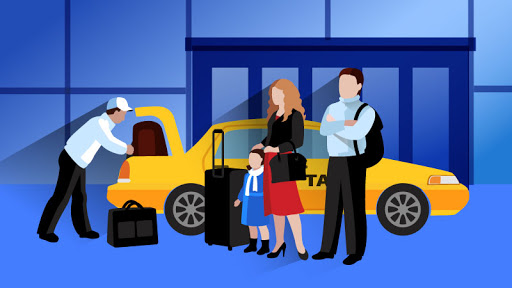 Transportation as a service(TaaS) has become increasingly popular over the years. Transportation as a service: Uber, Lefty, and Gett are three well-known examples. On-demand delivery services are at their peak. And self-driving cars are the next big thing in the transport industry. TaaS services are the heart of ride-hailing services, on-demand delivery services, and self-driving cars.
According to statistics, the TaaS market is expected to grow by 10x. For now, we can say the TaaS market is in its initial stages. Forecasts predict TaaS services will skyrocket within the next few years. By 2025, the market will exceed 230 billion US dollars worldwide.
Still not convinced? Ride hailing businesses are the core of the TaaS market right now. On-Demand ride services had a growth rate (CAGR) of 14.8% in 2021. According to data, ride-hailing and the taxi segment projected to reach a total of $276.40bn in 2021.
The heart of the question is whether TaaS is a solution or a problem. TaaS World executives are divided on this issue. We will discuss the challenges, benefits, and reasons behind the expected growth of the TaaS market and on-demand delivery solutions. Here's everything you need to know about what they are, how they work, and whether they are worth investing in.
What is a TaaS?
Transportation as Services (Taas) is also known as MaaS ( Mobility as a Services). As the name suggests, TaaS/Maas are transportation services. These digital platforms integrate end-to-end trip booking, ticketing, and payment services across all modes of transportation.
TaaS lets you plan door-to-door ride services. You must open the application, book a ride, and be ready to go. The TaaS industry is not only limited to the ride-hailing business. There is a plethora of startups and businesses that are adopting TaaS as a full-time solution.
For instance, Uber Technologies Inc., Grab, ANI Technologies Pvt. Ltd., and Gett Inc. are the top three major players in the market, but plenty of other competitors exist.
Other players include Lyft Inc., DiDi Chuxing, Delphi Automotive, Daimler AG., BlaBlaCar, and Didi Chuxing Technology Co. Apart from the ride-hailing business , you will find other significant industries in later sections.
Moreover, the market is not limited to the ride-hailing business. On-demand delivery services, ride-hailing, and car rental businesses are widely affected. Logistic services, supply chains, and the automobile industry will have significant influence. Self-driving cars are the future of automobiles as well as the TaaS industry.
Which industries are adopting TaaS?
On-Demand Delivery Service
Major business tycoons like Amazon, Postmates, and DoorDash are adopting TaaS for home delivery. Restaurants and e-commerce businesses are acquiring mobility for timely services.
Ride Sharing
Currently, the concept of TaaS is new, and people are still figuring out the business model. Until now, the only business contributing to TaaS growth has been ride hailing. Companies are hiring and partnering with mobility services for quick rides.
Rental transportation
Turo and Waive are car rental companies that let you rent a car. Companies allow employees to rent trucks, cars, bikes, and other vehicles from local hosts. The rental business can be considered the core of mobility services.
How revolutionary is TaaS?
The Third Revolution:
Growing trends in the TaaS industry are predicted to be the third transportation revolution. Before Texas, transportation went through two major transformations. The sector underwent significant breakthroughs in the 19th century after the industrial era. Later in the 20th century, the arrival of the car transformed the transport industry. TaaS is predicted to be the third phase of the revolution in the third industry.
The Automobile Industry :
Mobility services affect major industries like automobiles, parking lots, and ride-hailing. Companies that manufacture personal vehicles are going to be at a significant loss. Mobility services are cost-effective, reliable, and safer than private vehicles. Therefore, people will avoid spending on personal vehicles.
Parking Garages:
Additionally, parking lots will be affected by the fewer personal vehicles. Parking spaces are earned by renting the room for the car. Mobility services will decrease the number of private automobiles. The need for parking spaces will be reduced.
Although the TaaS industry is in its initial phase, it's too early to say TaaS is a solution or another fancy term. According to market experts, self-driving cars will be in use within a next few years. The cost of renting cars will drop significantly. Eventually , this will lead to more reliable services.
Pros and Cons of TaaS Industry
The Pros and Cons Mobility as a Service (MaaS) is an efficient, dynamic, and reliable solution for common people. Shifting from a personal vehicle to a ride service will save you from the maintenance cost of owning the car.
Pros
TaaS services are eco-friendly. People are more aware of carbon emissions and the impact of using personal vehicles. Less use of private vehicles will result in a pollution reduction.
Safe, comfortable, and easy to ride. TaaS provides an alternative way to move in a way that is faster and more affordable.
Cons
The industry is yet to discover the business model and revenue model. The system is vague. Thus, implementation involves risk.
The industry can only grow when there is accountability and security. The government should take the authority, and the private sector can continue the work.
Self-driving cars are not ready to run in the long run. There are numerous safety and security issues. It will take a few years to unleash the potential of self-driving cars fully.
Is TaaS worth the investment?
Mobility Services offers consumers an efficient, convenient, and secure transportation solution. While it may not be the time to ditch personal vehicles yet, we will likely see an increase in adoption by U.S. consumers and business owners. There will be significant growth once people are comfortable with the business model.
TaaS is built around the upcoming trends in the transportation industry. Some of them are self-driving cars, Blockchain development, automation, and IoT. These services are all set to modernize the transportation sector. However, self-driving vehicles are not yet ready to run on a mass scale. There are safety and privacy issues.
The TaaS industry is in its pilot stage. Statistics favor the TaaS industry. Future technology trends and growing demands clearly show the TaaS industry has a bright future. Therefore, we can conclude TaaS industry is a solution to the modern-day transportation industry.