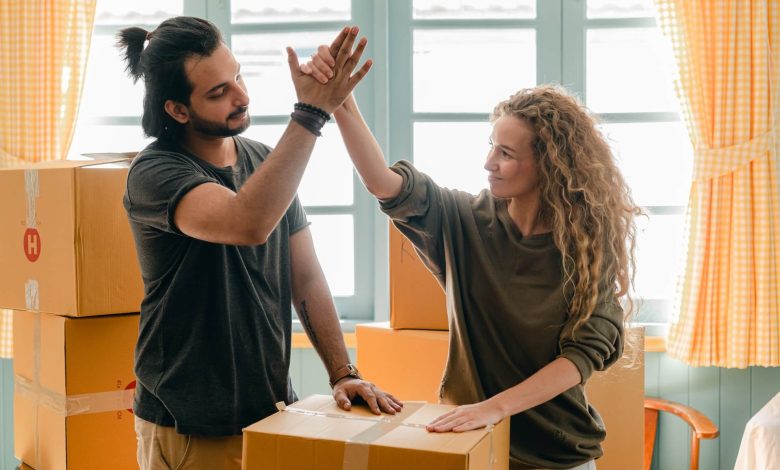 Moving house in London can be a very stressful time for most of us! There is often much more to consider when relocating in London, or any large city for that matter. The key to less stress and delays on moving day is to carefully plan your move, give yourself adequate time to pack and hire the best professional movers London has to offer for your budget. 
Hiring a reliable moving company is probably the most important thing when it comes to relocating in London. Things like planning the best roads and routes, obtaining parking suspensions for your streets and protecting your belongings during transit are all important factors a top moving firm will consider before your move. 
Unfortunately there are countless horror stories of moving companies being unprofessional, late, stealing belongings, damaging valuable items and even causing harm and injury to persons through negligence. Doing a quick search online you will find there's plenty of removal companies offering fast and cheap removals, but using these types of companies for house relocations is often asking for trouble!
Sometimes you might not need to hire a moving company at all. If you don't have many belongings and live in a small property then it might be something you and a few friends can do to keep costs low. However, if you are a large family household and have lots of items then you really have no choice other than hiring a removal company for your move. 
In this article we give you a few tips and things to check to help you choose the best moving company. 
Check the reviews online
The first thing to do when looking at moving companies is check the reviews online. It's a no-brainer to read the reviews first before asking for a quote, this will save you a lot of time and headaches. Most good removal companies will have some reviews, if they do not have any reviews then that can be a sign of a poorly run company and someone to avoid.
Most removal companies will have Google Reviews (as it's a free service for businesses) or use other review platform services like TrustPilot. Be sure to read the negative reviews, but also keep in mind that if there are a lot more good reviews than bad reviews then they are probably a decent removal company.
Another good place to view feedback and reviews is social media like Facebook or Twitter. Unhappy customers who have had a bad experience are likely to publicly make it known on social media. Search for the company's social media profile and check public posts to help paint a picture of the moving company and whether they are someone to avoid or not.
Get some referrals
Like most services out there, having a referral from someone you trust can help separate the good from the bad and save you a lot of time searching online. Checking reviews online and Google My Business will often help you make a better informed decision on most services, but nothing quite beats a review from family or friends!
For that reason it makes sense to ask friends and family whether they've used any moving companies recently or in the past couple of years. Find out about their experience and if there was any problems they encountered while moving house.
If you are using an estate agent then you should also ask them if there's any removal companies that they trust and recommend for moving in London. A good estate agent should be able to recommend a few removal companies to you and point you in the right direction.
Does the moving company offer insurance?
Hiring the best moving company for your budget is a must. There are plenty of removal and home moving companies in London, some are cheap services like man and van hire, some are professional and provide a full moving service. Making sure you pick a company that will respect your belongings, plan your move well and provide a good level of customer service is the minimum you should look for.
There are a couple of things to look out for when comparing moving companies in London. Firstly you should check that the moving company provides insurance just in case any of your items get lost, stolen or damaged during the move. If a moving company does not offer you, or even discuss insurance, then that can be a red flag and a big risk to take.
The insurance used by removal companies will usually have an upper limit. You want to check the level of cover you're getting and whether it covers the value of your items. You also want to check exactly what the insurance covers, for example, accidental halkalı escort damage or stolen property etc.
The removal company should ask you to write down and list the value of your more expensive or valuable items. This helps them to total up your item costs and provide you with the correct amount of cover. If for any reason they can't fully cover your items with the insurance, then you should ask them what options you have to increase the cover. 
Is the removal company a member of any accreditations?
Check to see if the removal company is a member of the British Association of Removers (BAR) or any other removal industry accreditations. If they are members, then it shows that the company is working to high standards and are professional movers and storers. To remain members of an accreditation usually means the company is checked annually and has to meet the accreditation standards.
If a removal company isn't a member of any accreditations, then it doesn't necessarily mean they are a poorly run company. You will often be quoted higher pricing by companies who are accredited compared to those who are not, sometimes paying the extra is better for peace of mind.
Does the moving company offer to survey your home and items?
A good moving company will always request to survey your home and belongings so they can provide the best possible moving services. Often this is a quick visit to your property or conducted via video on a smartphone. It's good to note that you want to make sure you're dealing with a reputable moving company at this point. Showing the contents of your house or allowing unprofessional movers to come into your house might be considered a risk for some people. 
By conducting a survey it shows that the company is efficient and already planning ahead before you relocate to your new home. It also helps them provide a more accurate moving quote.
The survey will determine the following:
How many moving vehicles will be required

The types of moving vehicles required (smaller vans or large lorries)

Whether the vehicles can get parked safely near the properties

If there's any obstacles that might delay moving day (flights of stairs, lifts etc)

If there's any valuable items that need special handling

If there's any furniture or fittings that need to be disassembled before transportation
It's fair to say that a company that takes all the above into account will make sure your move runs as smoothly as possible. If you hire a moving company who will just turn up on the day without a survey, then you can expect some problems and delays!
Does the moving company provide any other helpful moving services such as packing services?
A top removal company will offer a complete moving service which can include secure storage, packing services and packing materials. Packing up your belongings can be a headache and something not all of us have time for especially if we are working etc.
Professional packing services are great for helping you get organised and ready before moving day. The cost of this service including materials is usually not too expensive and something that you can budget for when requesting moving quotes. The professional packers will visit your property a couple of days before the move and start boxing up your belongings ready for transit.
Ask about any additional services that you think you might need. More often than not, depending on your circumstances, sometimes you might need to temporarily store your belongings before they can be moved into your new home. A good moving company will provide secure storage for your items or atleast help you organise some storage before moving into your new home.
Get Written Estimates on your Moving Quotes
When getting and comparing moving quotes from moving companies, make sure to receive a written estimate with the costs clearly broken down for you. You should cover many aspects of your move with a good moving company, this can include any other services you might require like packing services or storage services. 
Having each moving quote written down will make it so much easier to compare costs between companies and the services you're getting. Also be sure to ask and check if there will be any additional or hidden costs that might arise.