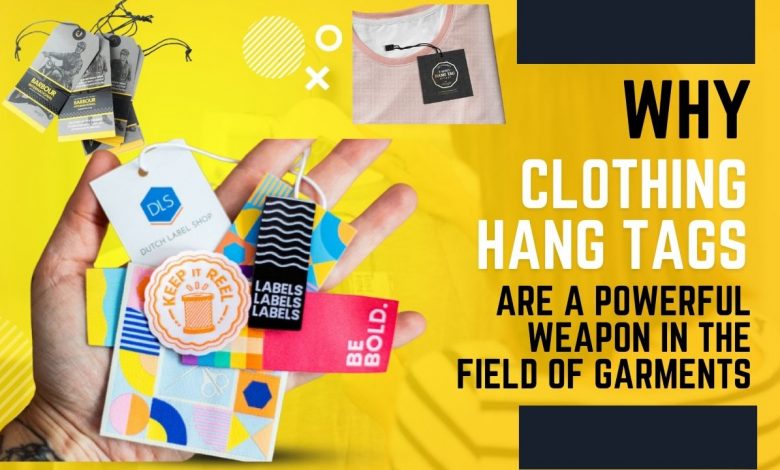 Printed Clothing Hang Tags
Hangtags or Clothing tags are labels that are attached to clothing and contain the most basic information about the product. Such as size and price, as well as the brand name or logo… everything is within the clothing tag. However, what is growing more common within the industry is hangtags as a weapon in the war for marketing. Too often, the labelling and branding is a last-minute thought.
Europe is the most leading country where the clothing tags are most popular. Clothing Hang tags can help your brand in many different ways. These tags are also considered a significant source of brand promotion among your targeted consumers.
Make a Position on the Rack
Items, especially clothing in retail stores that are crowded, are often lost in the aisles. A typical hangtag placed strategically on your product will help its mark in the rest. A unique and beautiful logo, vibrant designs, or an unusual and distinctive shape are all elements that make an impact and, in turn, can make products stand out from the crowd and allow customers to recognize your product in the marketplace.
Let your Customers Feel Confident about your Brand
With a custom print clothing tag, you can communicate your company's unique story among your customer, and it allows consumers to be a part of your brand and create a sense of loyalty. This is particularly the case when it comes to eco-friendly products, locally made or exclusive items.
Write your goals and fair-trade policies with a tag that will allow your customers to feel like they are as if they are part of something greater. People are becoming more conscious of their environment; that's why most clothing tags manufacturer use eco-friendly materials to make their clothing tags.
Advertise your Company
Consider a hangtag to be the equivalent of a business card. Utilize it to sell the item it's connected to and promote your company simultaneously. Print the information you want to share that will draw visitors to your site. Promote your social media channels such as Facebook, Twitter, or Instagram; you can also get a massive sale on your product because of these social promotions. Utilize the clothing tag feature to offer discounts for the next purchase. It's a chance to advertise or to provide the basics of information.
Make it Easy to Access Pricing and Care Information.
The information you provide on the tag makes your company appear more transparent and can help customers make an informed decision. Offering a reasonable price (alongside your brand's story) will help customers be educated about the actual cost of well-designed products. Suppose the information is too extensive to fit in the space, and you want to make it easy for customers to navigate. In that case, a QR code can allow the customer to access an online page that will describe in detail what went into the product that they hold on their fingers.
Tips on How to Create an Appropriate Clothing tag
If you're an emerging designer and want to design a tag that goes beyond mention the size and cost and size, you can offer these ideas in your clothing tags:
Find Out More About Other Brands
Please take a look at the other brands similar to yours in the market, and evaluate the things you like and do not like about their brand. Then, they help a lot to design your own unique and beautiful clothing hang tags.
Grab Their Attention
You're in an ocean of similar clothing brands, and you need to be able to influence your customer's decision-making quickly. So, provide creativity in your labels that easily grab the customer's attention towards your items.
Logistic Systems Play a Part
If you are selling wholesale, be sure to allow the retailer to provide their SKU and pricing details properly.
Be Aware of the Rule that Applies to Gold Locks
A little bit of information but enough to leave an impression on the valuable customers. That's why to be aware while printing information on your clothing tags or labels.
The Devil is in the Details
Be sure that every aspect of your hangtag is carefully thought out: your typeface colors, your brand colors, the paper texture, and the method for hanging them must be consistent with your brand's overall identity and appeal to your prospective clientele.
Could you make use of it to Promote?
Include your websites and social media logins on the clothing tags UK so that clients can locate you later. Perhaps offer discounts or announce specials on different extraordinary events.
First, Impressions are always Important.
If a product is priced high, the perception is that the product is higher-quality. So, if you go the extra mile for your tag, customers will be aware.
Always Thing Out of the Box While Designing your Labels
You can mix different materials, like the woven Label and card. Make your mark and include an extra eyelet, gold diamond, or something unique to make your customers remember your purchase.
Whatever style you decide to create for your hangtags Label. Many companies can create hangtags to suit your needs perfectly. They will take the time to know the specific needs of your business and design solutions that meet your needs according to the new market trend.
Packaging for your products is the image your company presents to the world. Therefore, it's always essential to make your best image on display to engage more and more customers.