We all already have a basic idea as to what to give to a dog/cat lover. We have been seeing it for quite some time now. But did you ever think of what gifts would be a perfect fit for someone who owns a pet other than these? Like cute little hamsters? We will start by giving you a little brief of these creatures so that you get a better understanding of what you can give ahead to your friend. So, hamsters are cute, little adorable creatures that are cuddly and very pleasant to hold. Undoubtedly, they make great pets.
Hamster lovers already know why they feel that adopting them has been their best decision. This is because, unlike other pets, hamsters are very low-maintenance pets. One can expect a high one time cost for obvious reasons i.e their cage/bedding, vet bills, food, treat etc. They also do not require regular socialising and no constant attention. Moreover, these cute and entertaining creatures play and clean themselves. This makes their grooming process easier as well. One need not worry about their space because hamsters can very well stay content everywhere.
Hence, all-in-all, a hamster lover doesn't have to worry round the clock about their cute little pet. So, if you know a hamster lover who is spreading smiles across and living their best time with this fun little creature, then here are unique gifting ideas by Pawstro that every hamster lover will enjoy.
5 unique gift ideas for hamster lovers
Hamster Plush
Image Source: Ubuy Co
Irrespective of the fact that your hamster loving friend owns a hamster or not, this can be a very adorable gift for them. Choose a good quality plush that would give them real hamster feels. This will help the hamster love to get a sense of security, slashing down on their negative feelings (anxiety, loneliness etc.)
If the person happens to own/ or had owned a hamster, then while squishing this plushy, it will remind them of their beloved pet. You can choose from the multiple sizes and colour options available. This can be a perfect gift for someone who just adopted a hamster as well. They can decorate such hamster plushies around the house and make the visitor know about their love for these cute little creatures.
Digital pet portraits
If you are looking forward to a whole new way of gifting, then let us walk you through the journey of digital pet portraits. So, a digital pet portrait is something that has evolved out of the traditional paintings that we have been looking at all our lives. It is not much different from a traditional painting, however, needs an additional skill set level. Digital oil painting requires the artist to be good at both art and software.
With these, you can get pet oil painting from photos that will not only look distinct and appealing but will also last for years. Platforms such as Pawstro can help you with that. Just send the hamster's picture and watch it turn into a beautiful painting. There are various options available. You can give your friend a master portrait, theme portrait or a name portrait. For enquiries and orders, you can check Pawstro.
Hamster Blanket
Dog and cat owners have the privilege to cuddle with their pet pooch any time of the day. But, when it comes to hamster owners, they do not have such privilege. If only there were a way for them to cuddle up with their little lovely friend. In this case, custom made blankets can come to the rescue. You can get digital pet portraits on a soft, comfortable, full-sized blanket for your friend. This can be a thoughtful way in which they can snuggle up with their tiny friend.
Hamster Print Ceramic Mugs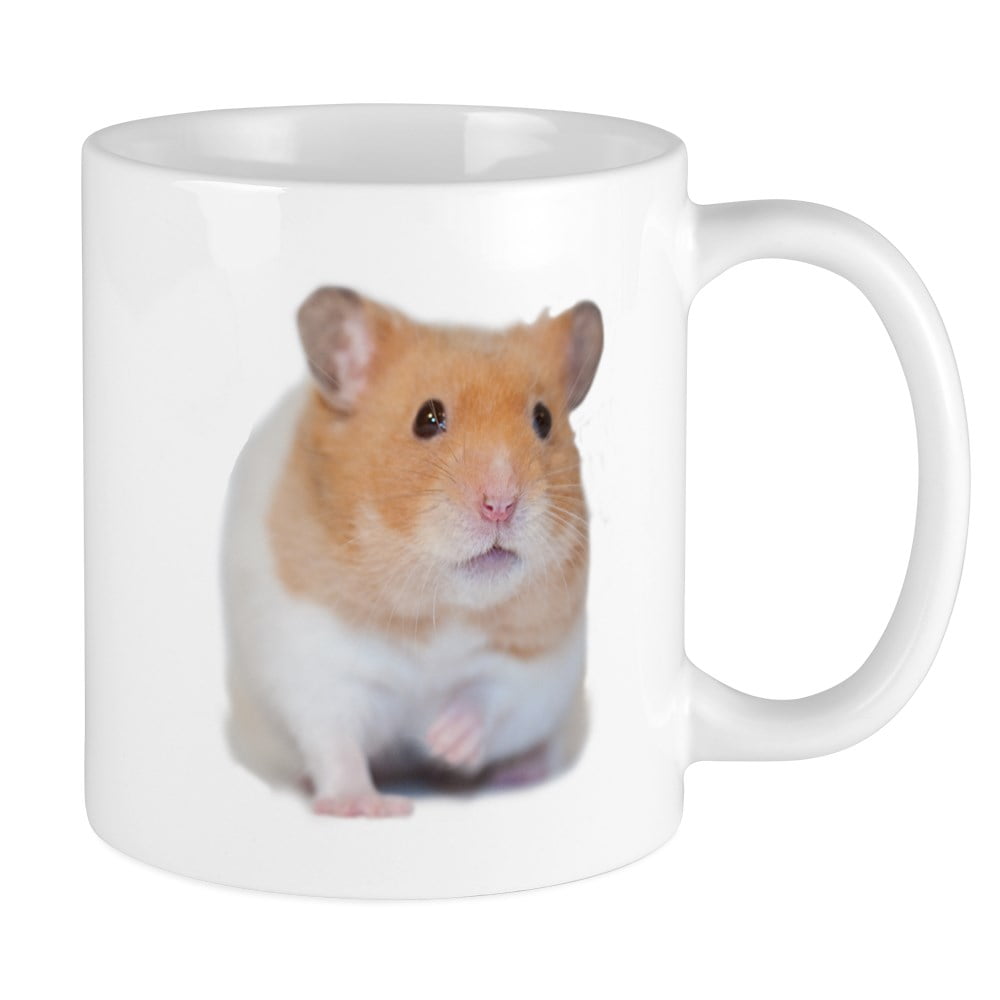 Image Source: Walmart
Do you know any friend of yours who dubbed themselves as a hamster mom or hamster dad? This could be a wonderful gift for them. There is no such thing as too many mugs, so this will just be a great add on to the collection. Whenever they will sip on their favourite coffee/cocoa, this sturdy and fancy vessel will give them a different feeling. This will also be a great way for them to show off their love for hamsters.
You can feature the cute little footprints of their hamsters underneath these texts (Hamster Mom/ Hamster Dad). Get it custom-designed colourfully or you can even simply use the shades of black and white. After giving this, watch them smile as they take their refreshing sips.
Hamster Phone Case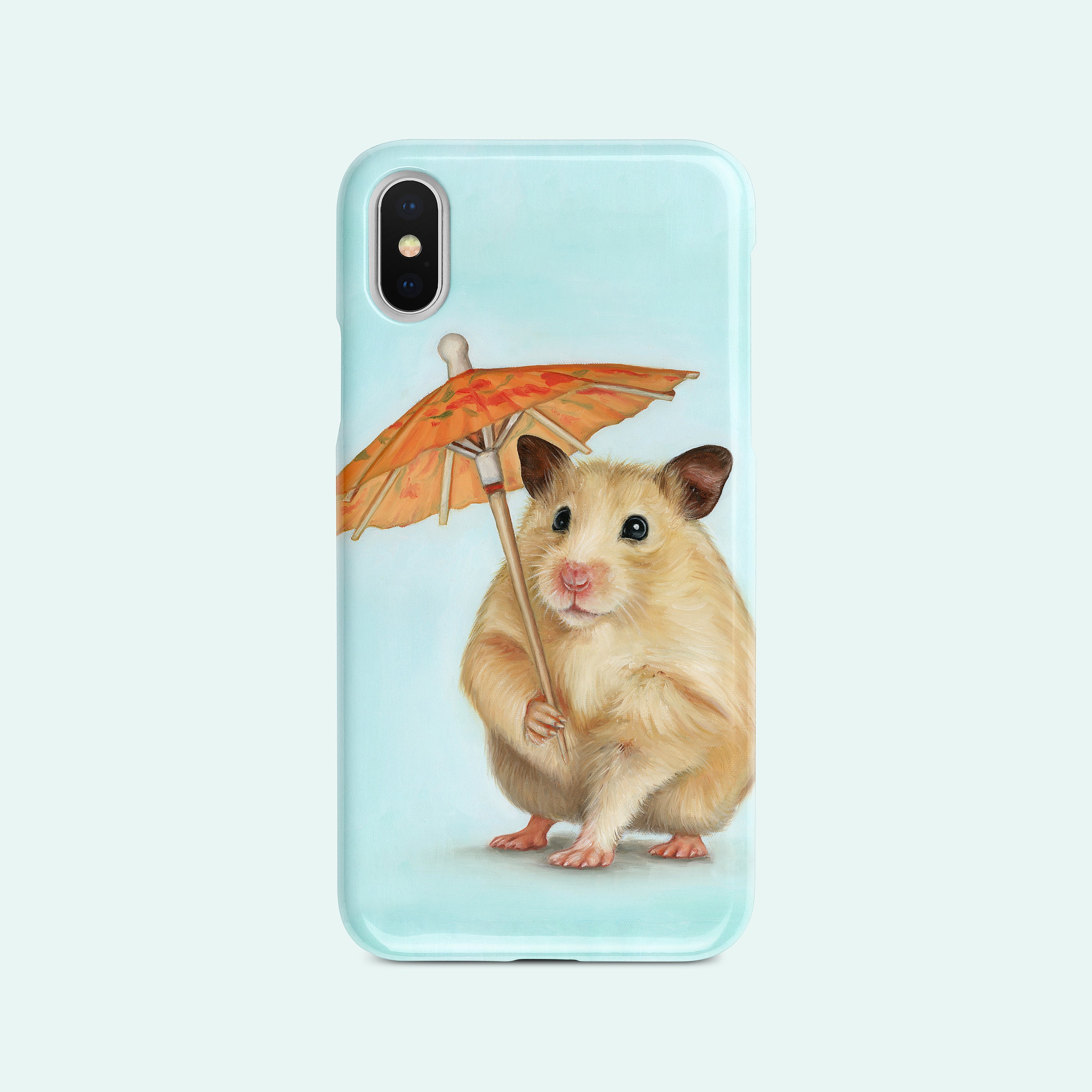 Image Source: Etsy
There is nothing better than having a digital portrait painting of a pet lover's pet hanging on their walls. How about giving them a customised portrait which they can carry anywhere around the globe? A phone cover is the best way of expressing something in the world. For pet lovers especially, it will turn out to be one of the most unique and original ways to show their love out to the world.
You just have to figure out the brand & model of your friend's phone and buy a transparent cover. Then you can ask professional artists to give you a soft copy of the digital portrait of their hamster and finally get it printed on the cover. Gift this high-quality mobile cover to your friend, their happiness will have no limits!
We hope that with this blog, you were able to pick the right gift for your hamster lover friend. Nothing goes as best as a personalised gift. It helps the receiver connect with the gift more and keep it with themselves for long. Such gifts don't lose their value easily. Be it because of external or internal factors. Honour them with such value-based gifts, for maintaining such tiny creatures flawlessly with utmost love and care. If you are someone who is also an animal lover, then don't wait. Bring home a hamster, as a pet to begin your beginner journey as a pet parent. Witness this bright-eyed, cute little pawed creature blessing your homes with happiness and joy.