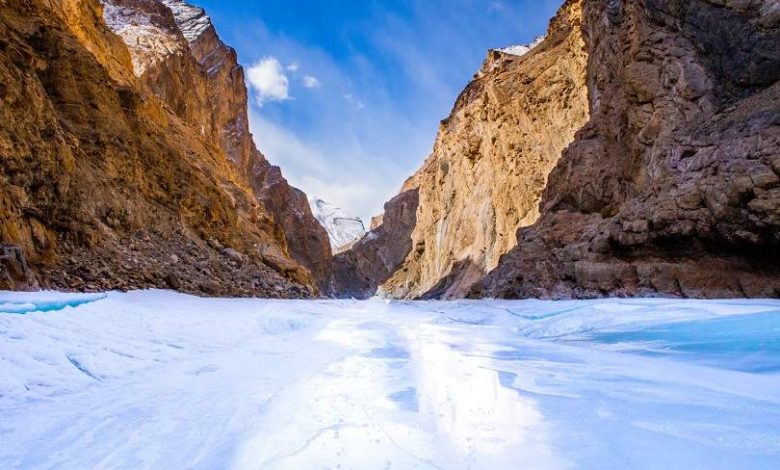 Overview
Featuring a bizarre backdrop of nature colours, the Frozen River Trek. It is commonly known as Chadar Trek, one of the challenging treks in Ladakh region. The arduous mountain trail on the frozen river under the blue winter sky, mountain caves and cold waterfalls. It is one the most strenuous treks of Indian Himalaya. Trekkers will pass through rugged rocks and the temperature might dip below to minus 10 degrees. It is a very rare climatic condition which can be difficult to survive.
Chadar trek is also one of the longest trekking trails in the Indian Himalayan region covering an entire stretch of 90 kilometres in 8 chilly days. Just like a walk to paradise, this trek swipes several trekkers' dreams, and makes it a part of their diary. The journey begins from Ladakh to the snowbound villages of the Zanskar Valley.
How to reach
If you are planning a trip to this area then you have to book your tickets well in advance. Jet Airways, Air India and Go Air provide flight service once daily between New Delhi and Leh. You would enjoy the flight as you would fly over many areas which are untouched and even some mountain ranges.
Things to carry
Some things are there to carry, they are:-
A walking cane
A bottle of water
Towels and toilet paper
A torch that emits light (if possible with extra batteries)
A head torch
Woollen Clothes
A pair of socks
A daypack – at least 20-30 litres
Waterproof windcheater
Waterproof linings on the backpack
Insect and mosquito repellent
Rain cover
Thermals and fleece jackets
Gumboots
A light quilt or blanket
Caps
Best time to visit
From the middle of January to the end of February, this is the best time one can have the experience of walking on a frozen river. The trek usually takes 9-10 days. Also the trek requires a minimum 16-18 kilometres per day.
Level of difficulty
Extreme temperatures and a deteriorating trail, these are constant challenges on the journey. The trek is difficult for first-time trekkers because it is brutally honest. Though the trek was not intended for beginners at first, with proper preparation and guidance, it can now be completed by anyone seeking adventure. Don't  forget the health check which is mandatory before the Chadar Trek, without it you cannot begin with your trek.
Reasons to do
Though you might find it to be a difficult trekking spot it is the opposite. All you need is precautions and then you can execute your plans for the Chadar Trek.
The frozen waterfalls during your Chadar Trek is a sight to be amazed by. The lakes might be covered in a thin sheet of ice and you will be walking on it with ease. Though there are itinerary sites to aid you at the Chadar trek if you face any calamities. So, you need not fear getting help during your journey. You will get the option to discover a new zone with less population at the Chadar trek. You can boast about being in a different world at the Chadar Trek.
Places to visit
There are many wonderful sites to visit at Chadar Trek make sure you had been to these places:
The camping zone; Tilat Sumdo.
Shingra Koma is another adventurous trekking destination.
The mystical caves and waterfalls of Tibb.
Gyalpo, human-faced rocks are sure to surprise you.
The beautiful Dibyokma is going to set your heart in a peaceful trance.
The local generous people of Ling shed are sure to show their heartwarming welcome.
Some facts
The Chadar Trek is now on the list of risky trekking spots but the beauty of the Himalayan Mountains allures several trekkers to trek. It is advisable for people with not strong hearts and breathing problems to avoid trekking at Chadar Trek. If you are willing to visit Chadar Trek make sure to wear shoes that might help you to walk on ice sheets. Most of the ice is melting due to the impact of huge global warming.