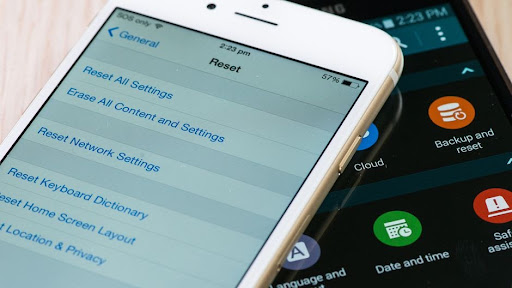 If you want to exchange or sell phones for a new one, you'll need to wipe the data first. Since you do not want your private data to fall into the wrong hands, it recommends that you erase the data. However, erasing the data or creating a backup of it is a simple procedure.
Before you do anything else, you should back up your phone before switching to a new iPhone. Backing up to iCloud is likely the most convenient method, and it also allows you to move your data either straight from your old phone to your new phone or through iCloud.
After you've performed that, copy all of your stuff to your new phone. Depending on your iOS version, you may have access to a wizard called "Prepare for New iPhone," which will take you through all the processes required to transfer your data to your new phone. You may also go to "Settings" > "General" > "Transfer or Reset iPhone" if you wish.
What Is The Right Way To Erase The Data Before You Sell A Used Iphone?
The iPhone's user interface is simple to understand. As a result, whatever setting you are searching for, you may do a particular search in Settings to find.
After you've transferred all of the data to your new iPhone, you should erase all of the data on the old one before trading or giving it away. In this article, to put your mind at ease, we'll show you how to erase all of your data, including chats, images, videos, and files. It's a simple and straightforward procedure that requires only a few minutes and ensures that no data can take.
It is a matter of security and privacy protection. However, if you want to sell your smart phone or gift your current iPhone to someone, you should erase any personal information from it. Plus, it's unusual that someone wants to buy a new phone with images of strangers in its gallery.
For this, we'll explain to you how to wipe any information and data on your iPhone that may use to identify you. Before you sell your old iPhone, make sure you move all of your files to the new one. After that, you may begin erasing your trace from the phone and logging out of your Apple ID account.
Backing Up The Data From Your Current Iphone
It is vital to consider backing up all of your data before knowing how to clean your iPhone. But why should you back up your iPhone? When you acquire your new iPhone, it retains your data and phone settings, allowing you to avoid tedious setup processes. Using iCloud directly on your iPhone is the easiest way to backup your data. Your iPhone may, however, back up on your Mac.
The following are the steps to make a backup:
Establish a Wi-Fi network using your iPhone. Connect it to a power source when taking the Backup if you have low power.

From the Home screen, go to Settings.

At the top of the Setting page, click the Apple ID banner.

Scroll down to Backup after tapping on iCloud.

Go to Backup, switch it on, and select Backup Now.
The information will store on your iCloud when you choose to Backup Now. Backing up your previous iPhone's data is an integral part of the whole procedure. When you're connected to Wi-Fi, iCloud takes backups of your data from time to time. On the other hand, taking manual backups will ensure that you Backup all of your latest documents. Before you sell your phone for cash online, remember to delete your iCloud ID.
Wiping The Data And Resetting Your Iphone
It's time to wipe your old phone after you're confident that all of your data is saved and you've transferred all of your data to your new phone. The steps to take if you've opted to erase your data from your existing iPhone are as follows:
If the phone's battery is running low, you should connect it to a power source.

From the Home screen, go to Settings.

Scroll down and tap General.

You can find the reset at the bottom of the page.

All content and settings will erase if you choose to Erase all content and settings.

When you tap it, your iPhone will prompt you to back up your data to iCloud and then wipe the data if you haven't already done so. It is always a good idea to make a manual backup of your data since the most current documents will also save.

It's time to reset the iPhone after you're confident you've taken the Backup.

The next step is to confirm that you wish to delete the information. You may do so by pressing the Erase button.

You'll prompt for your phone's passcode after clicking Erase now.

You now have one final chance to alter your mind before entering the passcode. Select Remove iPhone if you're confident you want to erase the data, and the data will erase.
Wrapping Up
It was a step-by-step guide on backing up and wiping data from your used iPhone before you sell your old device to a reliable buyer. After you've erased all of your data and Find My iPhone has stopped monitoring your old iPhone, there's just one more thing to do to get your iPhone ready for sale: make sure your new iPhone works appropriately.
When you bought and activated the new phone, your phone service should have migrated from your old phone to the new one. You may already be aware that it works because you have received phone calls on the new phone. If not, have someone contact you and ensure that the call is received on your new phone. If it does, everything is fine. If it doesn't, call your mobile provider to double-check that your service is up to date before getting rid of your old phone. It's usually a good idea to trade in a used phone for a new one.