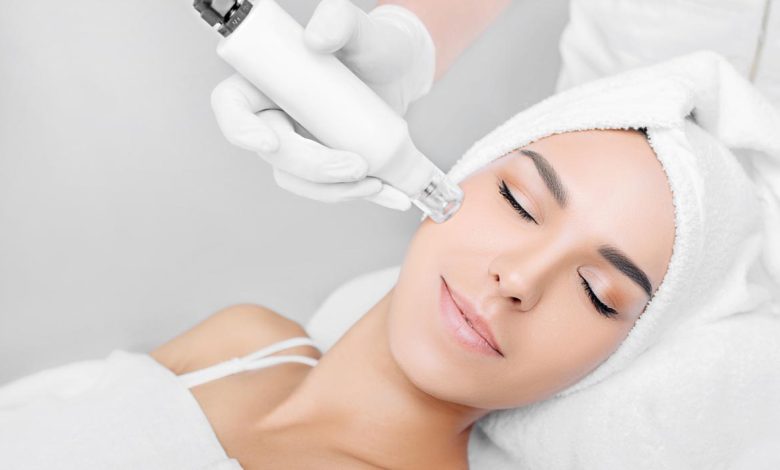 We all suffer from a skin issue that haunts us every day and never seems to go away. Adding more, not everyone can get expensive skin treatments that celebrities afford without thinking twice. What should we do? How do we find a skin treatment that serves us dually, is effective, and doesn't affect our budget? Mesotherapy Facial is best option.
Let us tell you about a procedure that is non-invasive as well as very effective in helping us get rid of skin issues.
What is Mesotherapy?
Mesotherapy Facial is an amazing non-surgical skin rejuvenation treatment that treats the face, neck and eye areas; quite effectively. Mesotherapy treatment involves using a transdermal injection of hyaluronic acid to increase collagen and elastin production.
The treatment is completed with an anti-ageing and hydrating hyaluronic mask.
Also, excessive fat from different areas of the body like the stomach, buttocks, thighs, hips, arms, legs and face is removed using mesotherapy for weight loss.
How does mesotherapy work?
The steps involved in the application of this special procedure are as follows:
A general treatment always starts with a numbing cream or ointment applied to the skin. So the patient doesn't experience discomfort or pain.
You will receive a series of injections using a specific short needle which is generally connected with a mechanical gun (I know where your mind is headed, don't worry. It is a completely safe process) to deliver numerous injections in a series.
The application of these injections depends on the severity of the treatment area, and the doctor or the practitioner will decide how much depth is required for the injections to be effective according to your condition.
The injection is not placed into the skin straight but at an angle. The solution transferred into the skin is only a drop per injection.
This treatment is ongoing, and you would actually need to get several mesotherapy treatments to achieve the best results you want out of this treatment.
Visits to the doctor can be from 3 to 15 times. After the first treatment, your skin will still be under observation, and you will have to get injections every 7 to 10 days. But when your skin improves, these treatments will be spread out to once every 2 weeks or once a month.
Who is it suitable for Mesotherapy Facial?
Mesotherapy treatment is ideal for all those who want:
Removal of fats from different areas of the body like thighs, buttocks, stomach, arms, legs and face
To reduce fine lines and wrinkles from different body parts
Skin tightening
A glow on their faces
To remove stretch marks
A bright skin tone and elasticity
To lighten the pigmented skin
To treat alopecia, a hair loss condition
Benefits of Mesotherapy Facial
The benefits associated with this special treatment are as follows:
There is a vast improvement in the blood flow to the treatment area
It will actually help in dissolving the stubborn fat deposits
It helps in removing fibrotic connective tissue from their stagnant position
Your lymph drainage is properly enhanced, which helps in improving many things in your body
It helps to get rid of love handles, bra bulges or saddlebags
It provides excellent results on loose skin and cellulite
Mesotherapy is a special treatment that can be used on almost any part of the body and improve its appearance, including fat reduction under the eyes and also to get rid of the double chin.
This is a completely non-invasive procedure and if you opt for any other alternatives to it. Then you will have to opt for surgical procedures or treatments that are very invasive.
Results of Mesotherapy
The results associated with this special procedure are as follows:
You will have an amazingly brightened skin tone
Your skin will be hydrated and will emit a beautiful glow
Refreshing and rejuvenated skin due to infusion of vitamins, enzymes, hormones and plant extracts
Reduction of cellulite
It actually helps in Fat Reduction/Weight Loss
Increased firmness and skin elasticity
The revival of dull and tired skin
You get a wrinkle-free skin
The sagging skin is treated on different areas of the body like hands, face, décolletage and neck
Some vital information related to mesotherapy
What are some of the benefits mesotherapy has over Liposuction?
Let it be very clear that Liposuction does not get rid of cellulite. Instead, it sometimes makes the cellulite more visible and prominent. Mesotherapy, on the other hand, treats cellulite, giving you much smoother skin and reducing fat in various parts of your body.
Because of this procedure, the body's fat reserves are flushed out due to enhancement in lymph drainage. These fat reserves never reappear in other areas, often after Liposuction. Another amazing benefit of mesotherapy is that it doesn't require further hospitalization after the treatment, anaesthesia or downtime.
Which cosmetic conditions can be treated by mesotherapy?
Mesotherapy is known to treat a lot of body issues like physical injuries, illnesses and other medical and cosmetic issues that are listed below:
Acne
Cellulite
Stretch marks
Scars
Wrinkles
Fat reduction
How does mesotherapy get rid of cellulite and fat?
Mesotherapy tackles cellulite formation with three factors. Your doctor or physician will create a specific or custom formula according to your condition to eliminate the fat in your cellulite, enhance blood circulation and finally break down the damaged connective tissue that will smoothen the skin's surface. This special treatment can get rid of cellulite located anywhere on the body.
How does mesotherapy tackle ageing skin issues to give you younger skin?
Mesotherapy includes subdermal vitamin injections that properly rejuvenate the skin cells. Making them more active and ultimately enhancing collagen and elastin production. This treatment does not require you to be too wrinkly to opt for it, and you can begin this treatment even in your mid-twenties to get ahead of the wrinkle formation. Face, arms, neck and hands treatments are highly recommended a few times throughout the year for best results.
How does mesotherapy facial take care of weight loss and enhance spot reduction?
The doctors put together a custom treatment for you according to your condition that will prevent cells from accumulating and also helps in getting rid of existing fat cells. The Spot reduction procedure properly targets love handles, double chins and any other areas of the body displaying fat pockets.
Can mesotherapy treat hair loss?
We know that mesotherapy is amazing in getting rid of wrinkles and removing fat reserves from the body. But there is another benefit of this treatment, and that is hair loss treatment. The procedure involves injecting plant extracts, vitamins and medicines like minoxidil into the head that helps in treating hair loss. We are well aware of hair loss from alopecia; mesotherapy is amazing in treating that.
People performing mesotherapy for hair loss claim that:
It can fix hormonal imbalances triggering hair loss
It delivers nutrients to the hair, which helps in hair growth
It properly improves blood circulation in the treatment area
Also read more About : Does masturbation effects on kidney?