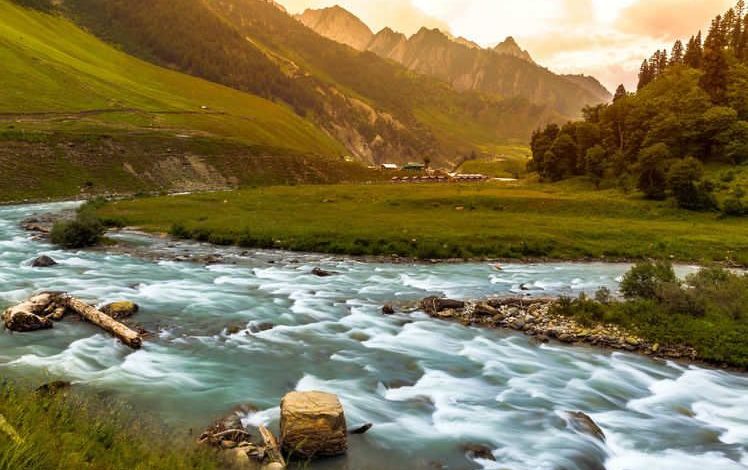 God's finest creation, Kashmir is the undisputed beauty known as 'Heaven on Earth'. Nestled between the Great Himalayas and the long Pir Panjal mountain range, Kashmir today stands as one of the most iconic tourist destinations world. Be it summer, winter or spring, Kashmir is abuzz with tourists.
This wonderful location is an epitome of natural paradise where beauty blends with nature to offer a mesmerizing experience. It is here in Kashmir that one gets a glimpse of paradise. The effervescent natural cover is nothing less than handy work of the Almighty. Step down here and you will be forced to say, "This is simply the most remarkable place on earth."
Come winter, and the place is covered with a thick blanket of white snow. The first rays of sun in the morning turn the mighty mountains into a resplendent diamond. During summer, the lakes come alive where you can feast on floral beauty and sip local Kahva while the Shikara makes its way through the water.
If you are planning to book Kashmir holiday tour package to spend leisurely time with 'the special someone', here are top eight destinations that must be a part of the bucket list.
Gulmarg
The name itself reveals the exquisiteness of this hill station that has risen to the popularity chart. Housing the highest number of golf courses, Gulmarg also is known for its longest car cable network, a project which is touted as the highest line in Asia. It is here that you can book a gondola ride that takes six people per ride. If you have the money book one gondola all for yourself and travel through Kongdori Mountain while holding each other's hand. This is a two-stage ride, so enjoy both of them to get a spectacular view from the top. Skis are available on rent so don't hesitate in hiring one to get a taste of skidding right through the snow-laden path.
Closest to: Closer to Srinagar
Travel via: Book a cab to reach Gulmarg
Gondola ride timings: 10 AM to 5 PM
Ideal time to go: June to October, and December and January to enjoy winter.
The to-do-list: Trekking, skiing and mountain biking as well as a Gondola ride to get the bird's eye view of Kashmir. Don't miss out on horse riding too!
Sonamarg
Bask in the 'Meadow of Gold' at Sonmarg that is surrounded by beautiful lakes and glaciers. Located at an altitude of 2,800 m above the sea level, this lovely little place in Kashmir should be on the list. This destination which was a best-kept secret till now has suddenly become the focal tourist point in Kashmir. Coming here with your lovely partner would be the best thing as you will find yourself turning into a poet no sooner. Places of attraction here include Nilagrad River, Zojila Pass, Krishansar Lake as well as Vishansar Lake.
Located at: Sonmarg is 80 km from Srinagar, en-route Ladakh.
Ideal time to go: From June through October and for winter delight opt for December and January.
The to-do-list: Camping, trekking and nature walks.
Leh
You cannot afford to miss Leh while traveling to Kashmir. This is the most happening, talked about and loved destinations in the world. Check out Facebook post of any travel junkie and Leh will be there on their walls as well photo albums. Get a glimpse of tranquil life where noise freezes to make way for peace. This Tibetan destination offers a peek into the life of a monk. The rich monasteries, palaces, and Shanti Stupa will transport the two of you in a different world. There is some magnetic force that pulls you towards the path of contentment and joy. When in Leh, as a couple you can rekindle love, romance and feel like one soul traveling in two bodies.
Ideal time to go: The best months are from April to June, September to October. Post November most tracks are closed due to heavy snowfall.
The to-do-list: Mountain biking is one of the sought-after things to do along with trekking and sightseeing and to see Magnetic Hill.
Kokernag
If a picnic is on your mind, then head to Kokernag; a famous destination that attracts both locals and tourists from across the globe. This place hosts the popular Kokernag Fest which includes Hafiza, Rouf and Bacha Nagma to fuel the tourism spirit. Do not miss out on viewing the awesome Kokernag Waterfall that adds to the spectacle of this place. A freshwater spring that comes to life as winter bids adieu, making way for summer sunshine.
Sinthan Top
If the two of you are looking to bite into some adventure, then we suggest heading to Sinthan Top. A destination that is slowly gaining attention as it offers a wide range of adventure sports to those seeking a high level of adrenaline rush. Go mountaineering, skiing or trekking here, be in communion with the nature while testing your strength. This is one destination which offers respite from the tourist chaos that are seen at other popular destinations in Kashmir.
How to reach: A mere 5-hour drive from Srinagar.
Focal point: 360 view, a sport that offers a view of Jammu and Kashmir from the top.
Pulwama
Think of Kashmir and all you can hope to carry is a box of pure saffron. This is an ingredient which is not less than gold for those who love cooking or savouring a good meal. Step upon this little city and see for yourself how the expansive saffron fields paint this place in hues of yellow, orange and red. The wonderful weather here only adds to the charm of this place. As a couple, you can live the DDLJ moment by walking hand-in-hand into saffron fields while basking in the aroma of this wonder herb. Spend time with locals to understand the rich cultural spread of the communities residing here. If you happen to visit in winter try snowboarding as well as skiing. In summer opt for trekking or mountaineering.
Ideal time to go: From April to October.
The to-do list: Trekking and Mountaineering during summers and skiing and snowboarding in winters.
Kathua
A quaint district in the valley of Kashmir, Kathua is known as the land of Sufi saints. Visit this place to unveil the beautiful history of Kashmir, the stories and folklore are sure to mesmerize you. It is a place known for many famous shrines like Mata Bala Sundri, Asha Purani temple, and Airwan temple. There is a small town known as Basohli where one can explore miniature paintings known as Basohli paintings as well as delicately carved statues. As for couples this little wonder offers plenty of time together, soak in the mystic beauty hidden between lush green treasures.
Ideal time to go: Summer is the best time to visit Kathua, winters are not ideal so try to avoid it.
The to-do list: Picnicking in Ujh Barrage and Jasrota fort is a must stopover for history lovers.
Srinagar
Last but not the least; Srinagar is the apple of the eye of Kashmir. Undoubtedly one of the best tourist destinations in the country, Srinagar with its motherly aura makes tourists welcomed and loved. The to-do lists can run long if you have loads of time in hand. Sail through the smooth lake in a shikara or go boating all by yourself. Trek around the hilly terrains along with your partner amidst shrubs and floral beauty. Those who love to watch birds and bees; this location offers plenty of spots for bird watching and gazing. You should also try water skiing and experience the thrill of a lifetime.
Ideal time to go: From June to October for sunshine along with mild winter, and for snow gazing it is best to book tickets either in December or January.
The to-do list: Don't miss out on a chance to reside in a boathouse and the popular a Mughal garden named as Shalimar Bagh.
Patnitop
Patnitop is a hill station in Jammu and Kashmir. This beautiful location offers beautiful picnic spots, peaceful walks and breathtaking views of the mountain scape of the Chenab basin. In the winter the resort is covered with snow and that makes it a wonderful destination for those who love indulging in winter sports. Patnitop is also a wonderful destination for adventure sports like paragliding. This is perhaps one of the very few places in India where tourists can indulge in winter sports and paragliding.
What you cannot miss on the trip to Kashmir:
The floating vegetable market,
Bactrian Camel Ride,
Ladakh Festival,
Camel Safari,
Sri Pratap Singh Museum,
Snow Festival in Gulmarg
Water spot in Wular Lake
Trout Fishing in Pahalgam
Wazwan – Traditional sit-down dining
Indira Gandhi Memorial Tulip Garden
Buying Authentic Spices
Sampling Kashmiri Street Food
Jamia Masjid of Srinagar
Explore Tibetan flee market
Kashmir is a beautiful book with many interesting chapters. As a traveler, this amazing destination offers an array of mind-blowing locations. All you need to do is learn to explore the lengths and breaths of this paradise on earth created by the Almighty. Each place, small or big has a surprising element that will leave you awestruck. Enjoy the lovely ride as you walk with your partner and unfold various layers of love while heavens blessing the two of you.